| | |
| --- | --- |
| Classical Guitar (6 & 10 strings) | I can use these strings |
English: coming soon!
Sei uno di quelli che pensa che le corde della chitarra classica abbiano tutte la stessa tensione?
Contrariamente a quanto possa sembrare  le montature per chitarra classica  non seguono affatto un eguale profilo di tensione tra le corde.
In questo grafico riportiamo ad esempio la tensione di lavoro di alcuni set di corda di differenti aziende: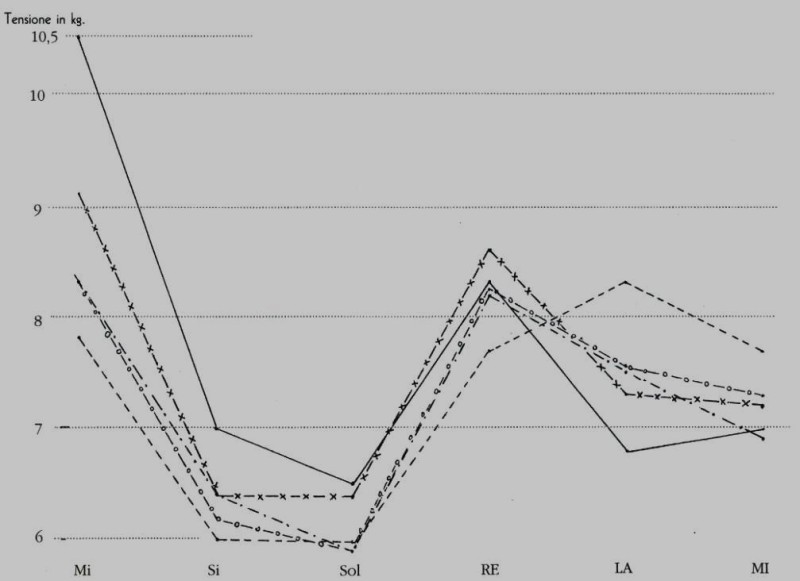 Profilo di tensione delle sei corde in cinque differenti marche
Perché?
Il metodo più comune di valutazione del grado di tensione delle corde di una chitarra è quello di premerle con le dita della mano destra vicino al ponte:  una montatura viene giudicata  ben fatta quando tutte le corde oppongono la stessa forza di contrasto al dito premente.  Verrebbe pertanto da concludere che sono state  tutte calcolate con la stessa tensione di lavoro.
Ma questo tipo di valutazione è in realtà una 'sensazione tattile' della tensione, non la tensione in Kg o libbre  propriamente detta misurabile con strumenti adatti. Per una legge della Fisica,  due corde che producono la stessa quantità di spostamento laterale a parità di peso agente e di punto dove si esercita l'applicazione della forza  (che è in pratica il dito che preme)  hanno anche la stessa tensione in Kg.  Ma questa egualità della tensione non corrisponde però quella che viene impostata nel calcolo necessario per determinare i diametri di corda.
Il perché è semplice: in stato di trazione le corde si allungano (questo si evidenzia in particolare nei giri impartiti alla corda in fase di accordatura); questo comporta  di conseguenza anche una  progressiva  riduzione del diametro. Ma se il diametro si riduce anche la tensione di lavoro  ne subirà un calo proporzionale rispetto a quella originaria determinata per calcolo. La quantità di allungamento non è la stessa per tutte le corde; essa risulta  massima  per il cantino, un po' meno per la seconda corda e molto meno per la terza:  è noto infatti a tutti che i giri di meccanica da fornire al cantino sono molto più numerosi di quelli necessari alla terza corda. Di conseguenza una montatura che fosse stata calcolata in eguale tensione una volta posta in stato di intonazione diventerebbe completamente sbilanciata.
Questo fatto è inevitabile: una chitarra infatti non solo monta corde di natura fisica eterogenea (le prime tre sono in monofilamento sintetico; i bassi invece sono composti da due materiali tra loro accoppiati come bava sintetica e filo metallico di ricopertura)  ma anche di diametro diverso ed occupanti nello  strumento una posizione specifica che viene definita dai tecnici  'Indice di Lavoro' (che è il prodotto tra la frequenza della corda e la lunghezza vibrante). Tutto questo fa sì che il raggiungimento di una omogenea tensione tattile tra le corde sia  nella  realtà un fatto complesso rispetto al semplice calcolo teorico dove il parametro tensione viene posto  come costante.
La scalarità della tensione è quindi  un processo di compensazione  studiata con cura dal cordaio al fine di neutralizzare, corda per corda, la perdita di diametro causata dall'allungamento in trazione: una volta poste in stato stabile di intonazione ciascuna di esse si ridurrà percentualmente del suo valore sino ad assumere  una tensione di lavoro eguale alle altre. Si realizzerà pertanto la condizione in cui, premute con un dito, esse manifesteranno  la stessa flessione. In termini pratici se il cantino cala sperimentalmente del 2% allora nel calcolo di partenza il diametro andrà  maggiorato del 2% e così via con tutte le altre corde.
Ma nella realtà pratica la pendenza del profilo di tensione deve essere reso ancora più accentuato: lo scopo di questa esasperazione della scalarità della tensione di lavoro  è finalizzata a  contrastare con maggior efficacia  la crescita di frequenza delle  corde  di maggior diametro (seconda  ed in particolare la terza)  sui tasti acuti e sopracuti.  Con le montature di budello del passato una ulteriore accentuazione della scalarità della tensione  rispetto a quella necessaria a compensare la perdita di diametro non si rendeva necessaria poiché  le corde di più grossa sezione venivano automaticamente realizzate con maggior torsione (sono quindi più elastiche) mentre i monofilamenti  di materia plastica  presentano tutti il medesimo coefficiente di allungamento specifico.  Il provvedimento  – con le corde sintetiche- non si è rivelato però del tutto sufficiente;  si rende infatti spesso  ancora necessario una serie di interventi di tipo compensatorio  all'osso del ponticello di cui il più comune l'inclinazione dello stesso.
For more information:
 see our FAQ
---
 NEW! RUBINO SET
A unique look and a strong, consistent sound.
Until now, it was necessary to increase a string's gauge to reach lower frequencies. But increasing the string's diameter also increases the internal dampening. That makes the string less bright, less responsive and more muffled:
the thicker the string, the duller the sound. Our revolutionary new approach —never introduced before us— changes the specific weight of the material, increasing it progressively to leave the gauge almost unchanged as possible is.
The result is amazing: the instrument sounds brighter, more powerful and more responsive through the entire range of the fretboard. The strings also maintain their intonation better (because thicker strings need to be fretted harder, pulling them farther out of tune).
Until now, this result was reached only with harps, where the scale of the strings is continuously varied.
THE RUBINO SERIES sets provide superior performance over traditional strings for musicians who love clear, sharp sounds and powerful voicing across the full scale of the instrument.
                                                                   You never heard a sound like this before, simply because before it did not exist.
RUBINO PRICES
| code | Set type | Tension | Euro excluding IVA-VAT-TVA (except for non-EU customers) |
| --- | --- | --- | --- |
| 134C | RUBINO SET | Normal | 15,00 |
---
 ALABASTRO SETS
Until the mid-20th century all Treble guitar strings were made in gut, a material that had been used for thousand of years and that combines good promptness of attack and excellent performances . A fundamental aim of our research has therefore been to design a new synthetic product having the same acoustic properties as gut, but without its typical defects (high cost, short lifetime, high instability under moisture changes). Our Supernylgut® has precisely all these good qualities without all these defects. Its features include promptness of attack, excellent performances and a truly remarkable stability of intonation under moisture changes. The Alabastro Basses, wound with high quality- silver-plated copper, consist of a Suprnylgut® multifilament core that ensures not only a high resistance to tensile stress but also a low absorption of both atmospheric humidity and sweat. Four tension's sets: light, normal, superior & Mix, i.e. normal tension trebles and superior tension basses.
String colur: gut colour and pearl.
Please notice: Just like gut, the Supernylgut® is liable to suffer from cutting edges. Before stringing the instrument do make sure the nut and bridge are free from sharp edges and the nut grooves not too deep and perfectly smooth. You can get rid of sharp edges with very fine grit sandpaper (600, for example) or the finest steelwool (000).
Which are the performances of the 'Supernylgut® strings? Hear here Stefano Grondona playing J,. S. Bach with an original Antonio de Torres guitar (Ed. Stradivarius, October 2010).
 ALABASTRO PRICES
| code | Set type | Tension | Euro excluding IVA-VAT-TVA (except for non-EU customers) |
| --- | --- | --- | --- |
| 97C | ALABASTRO SET | Light | 10,30 |
| 19C | ALABASTRO SET | Normal | 10,30 |
| 20C | ALABASTRO SET | Superior | 10,30 |
---
PERLA SETS
We are proud to introduce the Bionylon® bionylon the first eco-friendly synthetic string in the world. The first three strings are made of rounded, smooth Bionylon® monofilament with gut string colour – a new material discovered by us- that also boasts excellent acoustic and mechanical properties. Bionylon® is 68% a plant's derivate; this allows a reduction of more of 50% of carbon dioxide emissions in the atmosphere during the polymer- synthesis than the other common Nylons employed for musical strings. The bass strings, wound with high quality- silver-plated copper, consist of a New Nylgut® multifilament core that ensures not only a high resistance to tensile stress but also a moisture low absorption. This allows a rapid and stable intonation under moisture changes.
ATTENTION: the lack of clear guidance from the client will result in the shipment of strings with TENSION Normal
PERLA PRICES
| code | Set type | Tension | Euro excluding IVA-VAT-TVA (except for non-EU customers) |
| --- | --- | --- | --- |
| 37C | PERLA SET | Normal | 10,30 |
| 38C | PERLA SET | Superior | 10,30 |
---
 AMBRA 2000 SET
| | |
| --- | --- |
| | |
Up to the middle of the 20th century, the only available strings for guitar were gut strings for Trebles and silk wound strings for basses: their acoustical performance was different from that of modern Guitar- setup. The salient characteristics of the past setups were: a marked tonal presence, response and brightness typical of the top gut string (certainly superior to plain nylon and in some respects closer to fluocarbon strings) while the basses, on the other hand, possessed an exquisitely vocal quality, i.e. not so bright as, and with less sustain than, modern wound on nylon strings and more fundamental heavy. Our Ambra set was developed in order to best re-create, by means of modern synthetic materials, a different feel. This set was conceived for one grade of tension and consists of -gut coloured Supernylgut® for Trebles, while for the basses (silvered copper wires wound on Supernylgut® multifilament core) we employed a different balance between wire and core in order to obtain warm and deep performances
 AMBRA 2000 PRICE
| Code | Euro excluding IVA-VAT-TVA (except for non-EU customers) |
| --- | --- |
| 108C | 10,30 |
---
10 STRING GUITAR SETS
Courtesy of VIKTOR VAN NIEKERK, ten-string guitar Yepes tuning Aquila strings
| Code | set | tension | Euro excluding IVA-VAT-TVA (except for non-EU customers) |
| --- | --- | --- | --- |
| 92C | 10 strings classical guitar baroque tuning ABCDEADgbe | normal | 26,80 |
| 109C | 10 strings Classical guitar Yepes tuning F#G#A#CEADgbe | normal | 26,80 |
---
Aquila guitar string tensions (in Kg)
| Note | Perla (Normal) | Perla (Superior) | Alabastro (Light) | Alabastro (Normal) | Alabastro (Superior) | Ambra 2000 |
| --- | --- | --- | --- | --- | --- | --- |
| mi | 7.0 Kg | 7.7 Kg | 7.6 Kg | 8.0 Kg | 8.6 Kg | 8.0 Kg |
| si | 6.0 Kg | 6.3 Kg | 6.5 Kg | 6.8 Kg | 7.4 Kg | 6.8 Kg |
| sol | 5.5 Kg | 5.8 Kg | 6.0 Kg | 6.4 Kg | 6.7 Kg | 6.4 Kg |
| RE | 7.4 Kg | 7.8 Kg | 7.3 Kg | 7.4 Kg | 7.8 Kg | 7.4 Kg |
| LA | 7.7 Kg | 8.5 Kg | 7.5 Kg | 7.7 Kg | 8.5 Kg | 7.7 Kg |
| MI | 6.6 Kg | 7.5 Kg | 6.4 Kg | 6.6 Kg | 7.5 Kg | 6.6 Kg |
Aquila guitar string- gauges (mm)
| Note | Perla (Normal) | Perla (Superior) | Alabastro (Light) | Alabastro (Normal) | Alabastro (Superior) | Ambra 2000 |
| --- | --- | --- | --- | --- | --- | --- |
| mi | .68 mm | .71 mm | .63 mm | .65 mm | .67 mm | .65 mm |
| si | .84 mm | .86 mm | .78 mm | .80 mm | .83 mm | .80 mm |
| sol | 1.01 mm | 1.04 mm | .94 mm | .97 mm | 1.00 mm | .97 mm |
| RE | .70 mm | .71 mm | .69 mm | .70 mm | .71 mm | .62 mm |
| LA | .86 mm | .90 mm | .84 mm | .86 mm | .90 mm | .79 mm |
| MI | 1.06 mm | 1.08 mm | 1.05 mm | 1.06 mm | 1.08 mm | 1.02 mm |